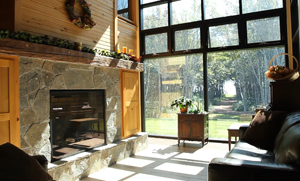 The Centre Goéland has been described by visitors as 'A lovely home nestled deep in the woods surrounded by natural beauty'.
Located on the south shore of Prince Edward Island, the Centre Goéland offers a tranquil, comfortable and safe setting that creates the feeling of home. The privacy allows people to feel at ease to be themselves. The natural setting fosters a positive, welcoming and nurturing environment that reaches the heart and spirit of those who spend time here.
The Centre is first and foremost the home of the 'Village des Sources l'Étoile Filante' youth camps and retreats.  For more information on these resource camps that promote youth well-being and spiritual health, please visit: https://villagedessources.wordpress.com/english/
To inquire about booking the Centre for your private event, please contact us at (902) 854-2546 or info
centregoeland
org (info
centregoeland
org) to learn more about our lodge or to make a reservation.