Island Clay
Clay on Prince Edward Island is similar to all clay in the Maritime Basin. About 12,500 years ago the last glacial period ended. It was marked by cold temperatures and was the last major advance of continental glaciers in the North American Laurentide ice sheet.
Till, the name for sediment deposited directly by a glacier, may vary from clays to mixtures of clay, sand, gravel and boulders. Red sandstone and siltstone ground down into very fine grains by glaciers is the source of much of our clay. Iron is a major component in the Island's clay minerals. Most natural clays are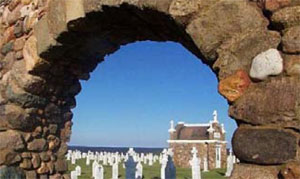 mixtures of different types of pure clay, along with other weathered minerals. Although some of our natural clay is clean it usually requires care ful cleaning: thorough drying then passing it through a sieve to remove rocks, shells, and other debris. It then needs to have water reintroduced to make the right consistency for throwing on a potter's wheel and firing in a kiln.
Clays becomes smooth when mixed with water in certain proportions. When dry, clay becomes firm and when fired in a kiln, permanent physical and chemical reactions occur which are irreversible. It is only after firing that it is converted into a ceramic material. Because of these properties, clay is used for making pottery items, both useful and decorative. Red earthenware made from red clay is very familiar. The firing fuses together coarser particles causing permanent chemical and physical changes to occur making a much harder and more resilient article that can still be porous. Earthenware is normally fired at temperatures in the range of about 1000 to 1200 °C. It must usually be glazed in order to be watertight.
Our heritage churches were built with clay bricks and in the Evangeline Region, two French Catholic churches were built of Island clay bricks. Our Lady of Mont Carmel Catholic Church in Mont Carmel, and the St.Philippe and St. Jacques Church in Egmont Bay. The original Egmont Bay church building no longer exists because of the erosion of its clay brick structure and its ruins can be viewed within a new memorial park site. The beautiful Our Lady of  Mont-Carmel Catholic Church is a historic site which can be toured and where the architecture of red clay bricks is clearly and proudly displayed.