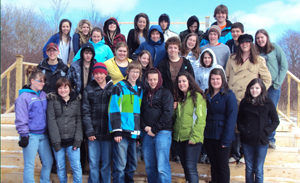 CAPE EGMONT, PEI – Oct. 29, 2010 – The 25 Atlantic Canadian youth who are participating in the francophone community leadership program "Faut que ça bouge" (You've Got To Move It) have evolved tremendously over the past seven months, says program coordinator Carole Devost with obvious pride.
At the beginning of the program, she observed that some of the youth were a bit shy and hesitant, but mostly uncertain and not at all convinced of their capacity to bring about real changes in their communities.
"But after having participated in our three weekend workshops and having worked intensely to plan their community projects with help from a mentor in their home region, the youth have come out of their shell, they've gained self-confidence and they know that if they want to change something in their community, they can do it now and they don't have to wait until they're adults," said Devost. "They now know that they can be community leaders today."
It really warms her heart to see sharp young leaders emerging from this group and to realize that they are learning from each other.
THIRD WORKSHOP
These youth, aged 14 to 17 years, recently returned to PEI for a third weekend workshop focusing on orientation, planning and motivation. Some of the youth are in the process of setting up their community project by themselves while others are working as groups. In all, the youth are putting together 17 projects, which are all at different stages of planning and implementation.
These extremely varied projects include the establishment of a youth group, a dance group, a volleyball court, a roller skating park, a theatre and improv group, a French pride project, a beach cleaning project, a student radio station, a youth government, a humanitarian aid committee, a violence prevention project and a recycling project. Other projects seek to organize recreational activities for youth and a poetry and music festival.
The primary goal of the third workshop weekend, held Oct. 14-17, was to motivate the youth after their summer and the beginning of their school year. Popular motivational speaker Martin Latulippe spent a whole day with them to help them recognize and bring out their leadership potential. He shared with them a number of strategies for becoming promoters of change in their schools and communities.
"This conference gave them a good boost and helped raise their self-confidence. It has a very energizing effect on them," said Devost.
The youth then shared where they were in the development of their projects. Thanks to videoconferencing technology, the group was also able to have live conversations with several of the participants' mentors. They too spoke about the successes and challenges of the various projects they are supporting in their regions. Participants now have a clearer idea about the steps they have to take to implement their projects.
The young leaders also had the opportunity participate in a few social activities as well as in a visit to a Charlottetown entrepreneur who develops residential co-operatives.
The current "Faut que ça bouge" project lasts one year. Participants will therefore return to PEI for a fourth and final workshop weekend in February. By that time, all of the projects should have been implemented.
"Faut que ça bouge" was initiated by Jeunesse Acadienne (the Island's francophone youth organization) and RDÉE Prince Edward Island (the francophone economic development council), and was implemented in collaboration with the youth organizations and RDÉEs from the three other Atlantic Canadian provinces. It was made possible thanks to financial contributions from the Atlantic Canada Opportunities Agency and Canadian Heritage.